They say that nobody forgets their first time, and for the most part this is true. Especially when it comes to Fibre.
Some of us still remember the days of dial-up and that beeping noise that penetrated your skull. Some of us remember when the Internet was meant to end the world in Y2K. Some of us haven't dealt with the speed, reliability, strength, bandwidth, latency and security (it's a long list, we'll stop now) of Fibre. And, for some of us, Frogfoot's new bundles are kind of a big deal- especially if it's your first time with Fibre.
This is why our New Bundles are getting all the spotlight right now. But why all the Internet talk, you ask?
Well, the scale at which our world has changed over such a short period would have been unfathomable a few years ago. At least a quarter of the world is either in lockdown as we speak or still reeling from its effects. Air travel, borders, supply chain as a whole – everything has been altered, but perhaps top of that list is the demand and need for effective connectivity.
Truth be told, reliable Internet has been a mainstay in thriving modern businesses for years. With work-from-home and stay-indoor instructions, however, a fundamental difference has been the need for employees to adapt alongside businesses. Couple this with an increased demand for all things streaming, surfing, remote-working and Cloud, and Fibre is suddenly at the top of everyone's wish lists. Seemingly overnight, ISP's the world over have been under pressure to meet the needs of the whole without compromising on quality.
While traditionally, these ISP's have had to navigate between supply and demand to remain profitable, the reality is that it's now a consumer favourable market – one boosted by high demand in a saturated, competitive working sphere. Customers are now spoiled for choice when it comes to connectivity, meaning service excellence coupled with competitive pricing have become fundamental.
And, speaking of pricing, now's as good a time as any to announce that our New Bundles, Rates and Specials are ready and effective as of 1st May 2021. In addition to this, we have launched the new pricing and 30mbps products a bit earlier than anticipated. Our speeds and costing can be found here: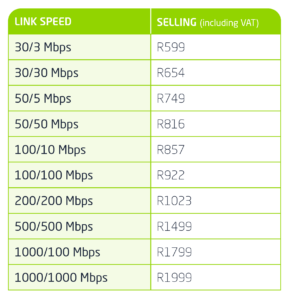 But why Frogfoot?
Well, we're not one to namedrop, but we're kind of ranked the top Fibre network in the country. It's sort of a big deal when you're voted the best Fibre related service provider in the middle of a pandemic- but that's exactly what we did last year.
If one more person has to mention how 2020 changed our working world, we'll probably hop off a building faster than a 1000Mbps Frogfoot line. As much as the topic has been discussed, however, things did change during those unexpected and unprecedented times, but what didn't change was our commitment to great Fibre. Support, promotions and innovative services all combined to get us our prestigious award, and we haven't dropped the ball since.
So, why would 2021 be any different? Frogfoot listened to our customers and to the communities that we service, and we are proud to announce changes to our packages that will allow customers to do so much more. We're offering more sugar in your coffee, more pumpkin spice in your latte, more bang for your buck, more frog in your foot and more bandwidth to our end consumer (without more damage to your wallet, that is).
With this in mind, it's safe to say that as of May (see what we did there?), you can expect different pricing at the same awesome levels of quality you've come to know and love. We're 'hopping' to better speeds and connectivity while providing you with nothing short of excellence.
Thanks for coming to our Ted Talk, and we hope to see you in the Fibre streets soon.
About Author:
Suhail Dinat
In Westville, Durban, born and raised, behind a book was where he spent most of his days. This Senior Content writer is equal parts creative, writer, conceptualiser and idea generator. With an agency background and having worked for several major..